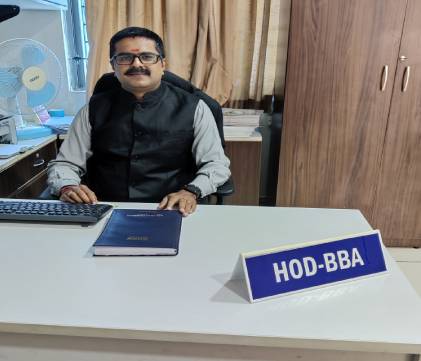 Prof. Arun Raghu Babu
Head of the Department, BBA
---
The Bachelor of Business Administration is a dynamic programme that develops the students' potentials of being leaders, entrepreneurs, academicians as well as researchers in the field of business/business education. The college follows the Bangalore North University curriculum which is perfectly designed for Sculpting an individual with conceptual, analytical as well as empirical approaches and strengthening their communication skills thus building their potential to grow in myriad roles within the industry or the world of business.
To expose the students with realistic industry environment, the department organizes national and international industrial visits, invites Senior Managers from Industry for Guest Lectures to share their experiences, organises seminars, workshops.
college fests and management games. Proliferate Value Added Programmes selectively chosen keeping in mind various kinds of potential that today's generation exhibit are an added uniqueness of the programme. Students are being encouraged to participate in various Lectures, Seminars, Workshops outside the campus and to participate in various Cultural and Literary events held in various colleges and Universities. The college campus is well-equipped with state-of-the-art infrastructure to allow students the space they need to unleash their creativity be it academics, cultural or sports.
Career Scope
Bachelor of Business Administration equips a graduate for various kinds of jobs wherein they can explore and utilize their potential in most productive ways.Besides having an assurance of getting entry level positions in many corporates and organizations and starting as members in HR/Finance departments, some of the charismatic job opportunities can be:
Operations manager
Information Heads
Sales manager
Business Analysts
HR Managers
Cost Estimator
Tax Analyst
Operations manager
Information Heads
Sales manager
Business Analysts
HR Managers
Cost Estimator
Tax Analyst
The BBA graduate can also start his/her own company and become entrepreneurs.
In addition to the above, if a BBA graduate aspires for higher studies, he/she can also opt for Master of Business Administration (MBA) often desired by employers for positions such as Chief Executive Officer (CEO) and Chief Operations Officer (COO). Doctoral programs are also available in business administration, which can prepare business professionals to work as consultants, executives or university professors.