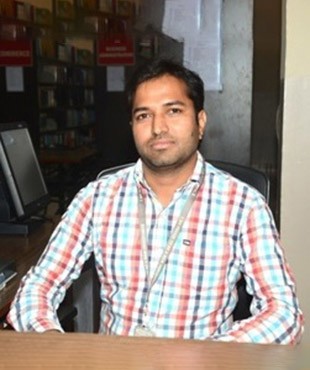 Mr. Ravikumar
Librarian
---
NHCM Library is a resource center for teaching, learning & research. Being the heart of the academic center, it is home for all the information services. It plays a proactive role in enabling access to information resources of all kind and providing innovative, responsive and effective services to meet the changing needs of the academic community. The major objective of our library is to provide right information/knowledge to the right users at the right time. The Library holds a hybrid collection of printed as well as electronic resources which include books, journals, databases, audio-visuals, CDs/DVDs, e-books, e-journals, course materials, past years question papers, Bound Volumes, Project Reports, case studies, conference proceedings, training manuals, etc. Currently the library holds over 10180 volumes of the latest books, print journals, provides access to e-journals, newspapers and business magazine, and multimedia resources.
VISION
To facilitate, educate and update staff and students in identifying and efficiently utilizing the current and appropriate informational resources.
MISSION
To maintain and upgrade learning materials and databases to meet the multidimensional needs of all programs of the Institution.
Books
Volumes
11884
Titles
1840
PERIODICALS
JOURNALS
12
TECHNICAL MAGAZINES
14
GENERAL MAGAZINES
14
NEWS PAPERS
10
NON – BOOK MATERIALS
CD- ROMs and DVDs
262
Project Reports
1132
E-Resources (NLIST)
202102
No. Of Bound Volumes
153
IIMs & UNIVERSITY LIBRARY
General Knowledge and Current Affairs
Mr. Varalakshmi
S.S.L.C
Attender
Stack Area
Reference Section
Periodicals, Newspaper and Magazine Section
Reading Hall
State of the Art Digital Library
Students Discussion Rooms
Faculty Discussion Room
Books and Stationary Shop
Circulation Service
Reference Service
Online Reservation
Institutional Repository
Reprographic Service
Document Scanning
Document Printing
OPAC (Online Public Access Catalog)
Overnight Circulation
E-mail Reminder
SMS Alert
Organising Book Exhibition
News Paper Clippings
24/7 open, 365 days
Individual cubicles and group discussion rooms are provided for individual and group learning
NHC library provided the well established Digital Library and E-Learning Center where students can access institutional repository, electronic resources, Guest Lectures and video lectures.
Project assistance with regard to providing rare collections
To give guidance to make an academic project like open source software, Apps, etc.
Online discussion forums
To conduct a quiz competition to upgrade their current general knowledge on core areas
Book Exhibition will be organized once in a year
The information literacy program is conducted every year to our students and teachers
To receive an online feedback from students in regard to facilities, resources, and service. It gives an opportunity to enhance library facilities, services, and resources. Students' feedback also taking through suggestion box
A Beautiful Library homepage is created for information dissemination.
24/7 Access to Electronic Resources through remote access
Web OPAC is available to our students and faculty members to check the availability of resources and they can also login to their personal account to see what books and CDs are borrowed from the library and its due date.
Students can make online reservation for Books through the OPAC
The library sends an E-mail reminder to collect reserved books from the Library.
SMS Alert through www.160by2.com web site (free website) is used for sending messages to the students.
Identity card should be shown at the checkpoint.
Leave your bags, handbags and personal belongings at the depository/property counter.
Students are prohibited to carrying any notebook inside the reference section except loose sheets.
No person shall write on, damage or make any mark on any book, journal or other material belonging to the library.
Books should be handled with great care and mutilation of books in any manner will be heavily fined.
Students can retain the books for two weeks only, after which a fine of Rs.1/- Per book per day (Rs.2/- after 15 days) will be charged.
Students can borrow three books, two CDs, two Magazines, two Journal at a time.
Renewals are allowed only when there is no claim by others. No phone renewal entertained.
A borrowed book if recalled by the Librarian has to be returned immediately.
Online reservation can be done for a book, which is already lent out. Reserve books are kept separately in circulation counter for two days for each member.
Maintain a Queue at circulation counter.
Timing
MONDAY – SATURDAY: 9:00 A.M – 5.00 P.M
Circulation Timing
MONDAY – SATURDAY: 9.00 A.M – 4..30 P.M